Yeaaaaahhhhhh!!! I think I have left it long enough with these tapes now to slam a bit of straight-up self promotion into the stream!
Ruf Kutz came about because I had some edits I wanted to press up... originally they were gonna be for a project of my pal Silvio's called ANACONDA EDITS... the cuts had serpent-themed names: "Solid Snake" and "Under The Hood"... some time passed and the Anaconda remained dormant so I thought well I'm gonna do it myself. I had a couple of other edits I liked and so I pressed all four up - by way of continuity the man Silvio designed the Ruf Kutz logo and that was that - RK#1 was born...
I just did 250 of the first one I think - distributors weren't interested in talking to me unless I did 500 and no way was I going in that deep financially; sometimes ppl do limited runs cos they don't have much money, not because they are trying to be cool...
I hustled a bunch of shops with some copies of the test pressings, used a friend's connect to hook up some Japan distribution (word up JAZZY SPORT!!!!) and pretty much managed to ship out the full 250...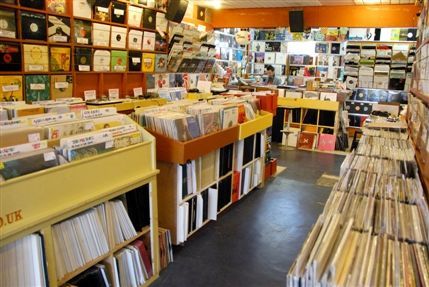 RIP Vinyl Junkies. Always smelled dead nice in there as well
I made a point of only approaching shops I liked, and as much as possible places where I already shopped - one of the joints I targeted was the now sadly defunct Vinyl Junkies - a grrreat shop and also I knew all the heavy US DJs shopped there when they were in town... this proved to be the fuckin master of all master strokes cos sure enough RK#1 showed up in a Moodymann chart within about 6 weeks and I have basically been dining out on that ever since. (There's a lesson in here for all you budding label bosses and stuff but I cannot be assed spelling it out to you)
Anyway that was 3 and a bit years ago and now we just put out RK#8... the back catalogue is about a 50/50 split of edit-based and completely original material and some of them are worth a few quid on discogs these days...
So that's it, here's the mix... 100% Ruf Kutz records... it's the first time I've ever stacked a bunch of RK tunes up against one another exclusively... I quite like that it's certainly not just 45 mins of one straight groove... fair bit of variety in the old discography!!!
RUF TAPE DOWNLOAD ARCHIVE